Treat Your Wellness Clients to Special Tricks for Halloween!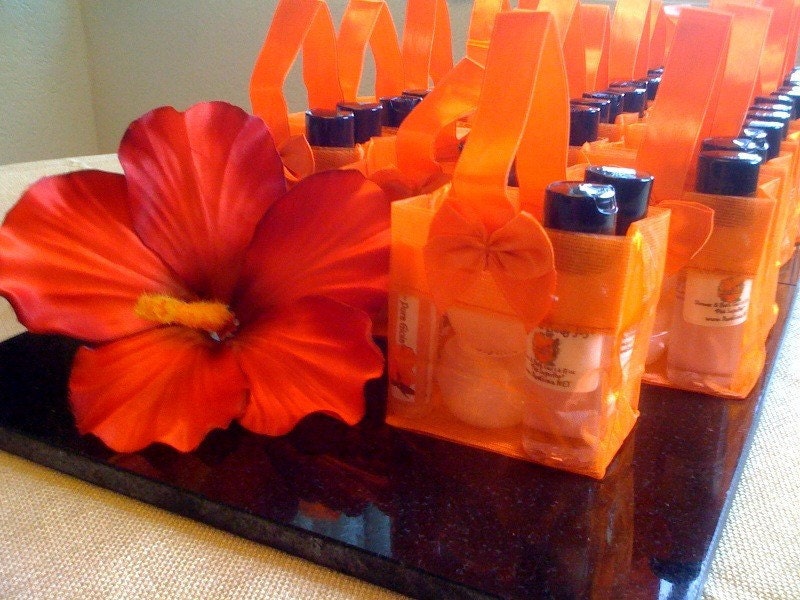 Do you give Halloween treats in your wellness practice? It's the perfect holiday to impress your clients with extra care! I make trick-or-treat goodie bags for my massage clients, filled with wholesome snacks and healthy treats. But there's a lot you can offer every day, so think of Halloween as inspiration to treat your clients to special customer service year-round!
How do amenities fit into your wellness practice? With little cost, time or effort, you can provide impressive extras – before, during and after an appointment, to keep clients coming back again and again for more of your special magic!  And the best part? You can add value to your client's experience without adding a penny to your cost or a second to your time!
Here are some tricks to treat your clients:
Answering machine message. Change your friendly greeting weekly, and always offer a special promotion, to let callers know from their first call to you that your service is above and beyond the standard!
Before the appointment. Send new clients their intake paperwork to fill out and return before their first appointment. Give existing clients a reminder call 2 days before their session. To be prepared for their treatment, ask what they need help with and what has changed since last time.
Reception area. Always be there to greet clients when they enter your office. Eliminate 'waiting room' from your vocabulary and from your business office – arrange your schedule to never keep anyone waiting!
Before the treatment. With new clients, go over their intake form together, item by item, to make sure they understand your policies and procedures. This eliminates the awkwardness of a surprise later – such as paying for a missed appointment. People appreciate knowing 'the rules' – we feel more comfortable and secure when we know what to expect. Before entering the treatment room, offer a drink of water and use of the restroom.
Treatment room. It is comfortable, attractive and impeccably clean! Calm serenity is crucial here. Maintain a comfortable room temperature with a heater, fan or open window. Flowers and foliage are subtle and always fresh – no fake flowers or dead leaves. The treatment table is pre-warmed on cool days. Use natural light during the day and low wattage lamps for evening sessions.
During the session. Put a purifying salt lamp in the treatment room. Play serene ambient music. The first thing I do after entering the room is place a heating pad on the client's back; I move it around during the session, to pre-warm each area before treatment. Listen to your client – what do they need today? With bodywork, careful draping is mindful of modesty, privacy and professionalism, and helps the client feel safe and comfortable. Clean lubricant off the client's skin with moist warm towels.
After the session. Offer the client a drink of water. Always invite people to schedule or confirm their next appointment. This is not being pushy or needy! Many people feel drowsy or disoriented after a session and they appreciate you keeping track of their treatment needs. Always give a new client something to walk away with – an article, bottled water, product sample, energy bar, etc. – to remind them of your business! Put your name and contact info on everything you give out! Always, always say thank you for coming in! Surprise and delight clients with a no-tip policy. If you don't want this as a general policy, you can have a special "No-Tip Day," weekly or monthly.
Follow-up Call. Check in by phone the next day with new clients, or an existing client with a new problem or an aggravation. If their next appointment is more than a week away, call between sessions to see how they're doing and remind them to follow the self-care routine you gave them. Ask if they have any questions or if there's anything you can do for them. If they're in pain when you call, offer to see them sooner than scheduled.
On-going Connection. A keep-in-touch marketing system keeps your practice in the clients' awareness. This includes email or postal mail items, such as a newsletter, or an article of interest to the client. A Referral Reward Program offers free massage to clients who refer others. Pre-schedule birthday and holiday e-cards each year, with new clients added as they come in. Here. 
Exceed Their Expectations!
Helping clients feel better with great technical skills is the bare minimum you should give. People expect an effective treatment – that's why they called you in the first place. You can impress them, and gain their long-term loyalty, by enhancing their visits with amenities that have a huge impact on the client's experience, with little or no cost to you. Use special amenities every day. Not just with new clients, but with all clients; not just for Halloween but in every single interaction – whether on the phone, by email or in person.
These special treats are a key factor in keeping loyal ideal clients and getting their referrals. Keeping repeat clients over the long-term brings in more money and more satisfaction than One-Session Wonders who leave a big tip and never return! Use every opportunity you can to give your clients extra service with tricks and treats!
Instead of these options – Trick OR Treat – give both! Special tricks to treat your clients with the best service possible!